About us / Nosotros
Cisco, the third generation of carpenters in his family, always knew that he wanted to work in the art of building objects with wood. As a teenager he started working at his grandfather's carpenter's workshop and together with his father, he has been building furniture all his life. Cisco has studied at the Academy of Fine Arts and has always felt inspired to use his woodwork skills to create art, such as sculptures and unique furniture designs. It wasn't until he became a father that he felt inspired to make toys for his daughter.
It began when Cisco started carving a doll out of a stick that he and his daughter had found in the forest during one of their daily walks. Together they built tiny shacks out of the logs and leaves they collected. The wooden figure was given a beautiful oak leaf for a tail. How much fun would it be to collect a different tail during each forest walk? Different leaves from each new season, with different colors and from different trees? And so, the idea of Guineuoak was born: (guineu means fox in Catalan) a lively and versatile toy that inspires parents and kids to participate in the game.
Our toys are carefully and individually handmade by Cisco, which makes each piece different and unique. Violeta helps in the finishing of the pieces and the packaging design.
We make our own water dyes with soil and non-toxic plant-based pigments. We also create our own mixture of beeswax and almond oil to varnish our toys. This natural varnish gives the wood a soft and shiny natural finish, without using chemicals. Therefore, our pieces are completely safe for children! Even for those little ones that like chewing on them!
From design to the finished product, our toys are manufactured in our family workshop in our home, in the valley of Montseny, Catalunya. We insist on having complete control over the process of making our toys, to offer a sustainable, unique, durable quality toy that your kid will enjoy for a long time.
We believe that the best way to learn is by playing and our goal is to create toys that are fun at the same time they are educational. We are passionate about books and that's why a lot of our toys are inspired by classic literature books. What better way to pass on our love for reading through toys, learning about stories while playing and even creating tales of your own with the feel and scent of the wood.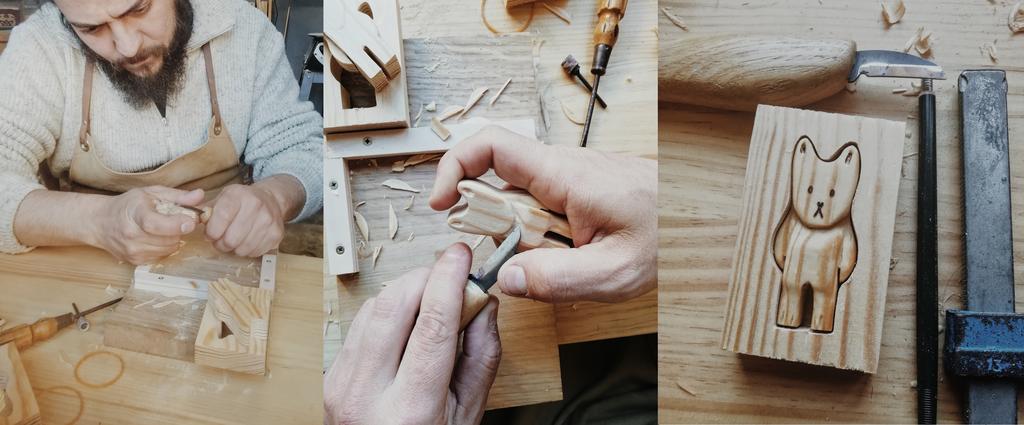 Cisco, tercera generación de carpinteros en su familia, siempre tuvo claro que su destino no era otro que el de dedicarse al arte de crear objetos de madera. Desde la adolescencia, trabajó en el taller de carpintería de su abuelo y junto a su padre se ha pasado la vida fabricando muebles. Estudió Bellas Artes en la Universidad de Barcelona y desde siempre le interesó la madera como material para sus creaciones ya fueran en forma de muebles o esculturas, creando su personal mundo artístico. Al convertirse en padre, se dio cuenta que podía plasmar ese mundo en forma de juguetes para su hija.
Todo comenzó cuando en uno de sus paseos diarios por el bosque, encontraron un pequeño tronco al que Cisco le dió forma tallándolo, convirtiéndolo en un muñeco. Desde entonces, Cisco y su hija empezaron a construir juntos pequeñas cabañas con tronquitos y hojas que iban recolectando. Así fue como nació Guineuoak , un zorrito (guineu es "zorro"en catalán) cuya cola es una preciosa hoja de roble (oak significa "roble"en inglés). Nos divirtió la idea de buscarle una cola diferente en cada paseo, escogiendo las hojas que los árboles pierden según la estación. Todas ellas de formas distintas y colores diversos, y así hacer de Guineuoak un juguete vivo y versátil. Un juguete que nos invitara a padres e hijos a participar en el juego.
En nuestro taller familiar, situado en las llanuras montañosas del Montseny, producimos Guineuoak de principio a fin. Como artesanos que somos, todos nuestros juguetes están hechos cuidadosamente a mano por Cisco y cada uno de ellos es diferente y único. Violeta, al frente del diseño y la comunicación de la marca, también ayuda en los acabados y se ocupa del embalaje.
Utilizamos nuestros propios tintes al agua elaborados con tierras y pigmentos vegetales no tóxicos. También barnizamos con nuestra propia mezcla de cera de abeja y aceite de almendras, lo que le da a la madera un acabado suave y brillante de forma natural sin necesidad de utilizar esmaltes químicos. Son, por tanto, seguros para los niños, ¡incluso para aquéllos que no se resistan a morderlos!
Nuestros juguetes están pensados, diseñados y fabricados por nosotros. Queremos tener total control en cada juguete que hacemos para que éste sea de calidad, duradero y sostenible.
Creemos profundamente que la mejor manera de aprender es jugando y esperamos que nuestros juguetes sean divertidos a la vez que didácticos. Nos encantan los libros, he aquí que muchos de nuestros juguetes estén inspirados en clásicos de la literatura y qué mejor manera de transmitir esa pasión que jugando, aprendiendo historias, inventando las nuestras propias y que éstas tengan el tacto y el olor de la madera.